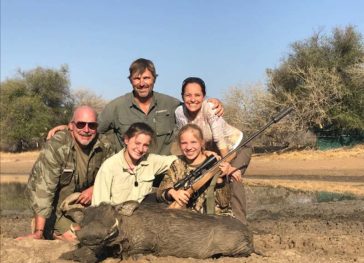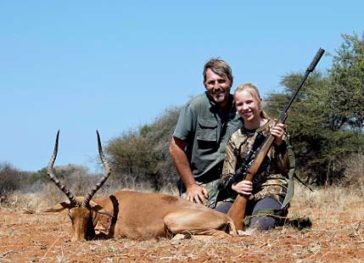 We arrived at Kudu Lodge in the late afternoon, following a ten-hour drive from Maputo, Mozambique which included a circuitous detour through Rooibok Kraal due to faulty memory (mine) and a confused GPS device.  It was almost a year to the day since my last hunt with my good friend George Potgieter, Professional Hunter (PH), guide, pilot, and owner and operator of Schoongezicht Rare Game Breeding and Hunting Safaris.  This time, however, I was not the hunter but an observer, an enabler, a mentor, and facilitator of a young girl's dream.   A family friend once mentioned that her young daughter Laura, not yet twelve years of age, wanted to hunt in Africa.  Having the opportunity to introduce a young person to hunting was music to my ears.  Besides, I knew the best possible place and PH to make a young hunter's dream come true.  George, having started hunting as a young boy, and later mentoring and guiding youngsters on their first hunts, would be the perfect PH for Laura's first safari experience.
By now I had lost count of how many times I visited Schoongezicht to hunt with George and his team.  George and his delightful wife Genie, also a licensed PH, own and operate Schoongezicht (www.schhunting.co.za), a privately-owned family operation in a safe and Malaria-free area in the Thabazimbi Bushveld, along the Botswana border.  The hunting grounds cover over 8000 hectares and provide an experience akin to a return to Old Africa.
Erik Sorour, George's right-hand man and head PH greeted us with his usual warmth and hospitality.  Eric himself introduced his own children to hunting from an early age, so I knew he would also be a perfect role model for the new aspiring young hunter.
After getting my friend Liliana and her two daughters, Andrea (the youngest by a year) and Laura (the hunter) situated, Eric showed us to the shooting range to test Laura's shooting ability.
Many experienced hunters and shooters, of any age, would be hard-pressed to duplicate young Laura's consistent accuracy.  We were impressed, almost speechless, as she hit tight bullseye groups with more than a half-dozen shots. She was focused, methodical, and almost made it look easy.  Satisfied with her shooting, and as the sun was about to give another spectacular performance as it dipped low on the horizon, Eric took us on a short game drive to get used to the terrain and the animals we would encounter the following day.
Majestic kudu bulls, wildebeest, zebra, giraffe, and the odd warthog rushing to an overnight burrow before sunset, presaged an exciting day in store.
The next morning, after a quick breakfast, we set off as night was paling and we were treated to one more glorious African sunrise.  Within hours the day warmed significantly as we drove in search of impala and warthog which are usually plentiful but never around when you want them!  As we searched for the right trophy, Eric and Laura made several stalks after impala herds and warthogs through the dense "wait-a-bit thorn" bush in scorching heat but found neither the right trophy nor an opportunity for a clean shot.  While the experience was exciting, we came back to the lodge emptyhanded and a bit disappointed.  Nevertheless, the experience showed that fair-chase hunting is as difficult as it should be.
George guided Laura the next day as Eric was taking time off to properly celebrate his big birthday which he had spent with us the day before.  The morning was a repeat of the previous day until about midday when we found a nice impala ram in a small herd in a thorn-bush thicket.  George and Laura jumped of the rolling safari car and disappeared into the bush as we drove away.  An eternity later (just a few minutes actually…) we were rewarded with the sounds of a shot and the distinctive "thump" of a solid hit.  The crackling of the radio and George's excited voice told us that Laura had her impala trophy!  A perfect, yet difficult shot from a kneeling position, brought down a beautiful, mature impala ram.
In the middle of the African bushveld, a magnificent animal lies on the ground.  The hunter, her mother and sister, the proud PH, sharing such a defining moment in that girl's young life, in everyone's and anyone's life.  A shared confluence of mixed emotions.  Excitement, reflection, respect, compassion and, as Wilbur Smith called it "the deep melancholy in the heart of the hunter," which eventually helps us to understand and appreciate life.
Laura impressed us once again later that day with yet another impressive shot at a beautiful warthog; a perfect shot from a blind at a waterhole in the middle of the afternoon heat, and after several previously unsuccessful stalks.  On the way back to the lodge, when we were no longer looking for impala or warthog,  they were now everywhere!  That's hunting!
Watching this impressive young girl become a hunter reminded me of my studies of Greek and Roman mythology, and it struck me that they probably got it right.  Maybe they were on to something when they chose goddesses of the hunt, Artemis (Greek) and Diana (Roman) rather than gods…  True to the ancestral deities, Laura was serious and determined in pursuit of her quarry yet compassionate and respectful of the animals, showing humble pride in her significant accomplishments.
Her experience came full circle back home when, a few days later, impala tenderloins and warthog leg roast, the fruits of Laura's hunt, were enjoyed by family and friends.
I am truly privileged to have witnessed a young girl follow an ancestral tradition.  A tradition that's in our blood and in everyone's DNA but that only some of us understand, choose to honor, and live up to it.
As always, thanks to George and his team, the experience encompassed more than a hunt.  It was the preservation of a way of life by the introduction of young people to the art of hunting, by providing a lesson in ethics, sportsmanship, conservation, game management, sustainability, and love and respect for nature.
As usually happens at the end of a safari, on the way back home, the next safari was already being planned!
Text and photos by Guillermo de Las Heras