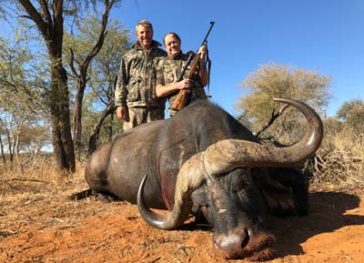 My First Buffalo Hunting June 29, 2019.
On my 70th birthday, I decided I would like to hunt a trophy buffalo bull. The cost implications made me hesitate, but I pushed on. At 73 today, I look back with pride on the outstanding hunt of my life. I gave up my faithful 3006 Winchester rifle and purchased a Sako Brown Bear 375 H&H rifle. After initially struggling with the telescope, I sorted out the problem and started shooting nice with this gun. I loaded my patterns myself. The 300 grain Barnes TSX points are powered by 58.5 grain S335 propellant. I approached George Potgieter, the owner of the 5000-hectare farm Schoongezicht on Rooibokkraal and said that I wanted to shoot a trophy buffalo. He said that the first shot from the shooting sticks is the most important shot, but that I also need to be able to shoot accurately from my shoulder as well as that I need to practice reloading after the first shot and be ready to shoot again if needed . I made sure I spent time on the practice track and was confident going to the farm to go hunting. Arriving at the farm on Tuesday, we went to the shooting spot on the farm to shoot in. Shooting from the shooting sticks was easy. Then I had to shoot from my knees, then I had to run 40 meters and shoot from the shooting sticks. I was surprised, accustomed to one good shot dropping an animal, little knowing that I would shoot all these shots at the buffalo! The first day in the field arrived. We found and followed buffalo tracks. I learned a lot about hunting and even put my fingers on the mist to feel like it's hot! When we got hot mist in the cold morning, my heart pounded, and we walked very slowly and softly. At one-point George Potgieter stood and 30 meters from where we were standing, a large buffalo bull lay on the ground. We stared at him for a long time and slowly got the shooting sticks in place. I looked at the buffalo in the eyes and waited for him to get up so I could get a shot. However, the buffalo did not rise, but aware of us, flew and ran with the whole herd. So close and yet so far! We followed the buffalo after waiting for a long time, again we came close, but they were now vigilant and gave us no chance. We decided to go ahead and present them. On our way there we came across 3 buffalo bulls of which 2 were trophy animals. Again, we got too close and saw them at the same time they saw us. Therefore, once again no shot.
After lunch we tried to present the large herd. However, they were too smart for us and kept us out all the time. Early the next morning we encountered a large lone bull that looked as if he did not want to run immediately but lay flat behind a bush. It was very funny behaviour and we thought there was something wrong with him. As we gently approached, he jumped up and ran. We are after, under the impression that he would not run far. However, he ran about 15km with only once we could see him walking slowly. We caught him in a sharp corner of the farm but decided that it was not ethical hunting to shoot him that way. It took almost the entire day and we did not encounter any buffalo the other day. Friday (the 3rd day) arrived and I was pretty tired. We found a small herd of a bull, cow and calf we could shoot, but the bull was not trophy quality. Then we saw the 3 bulls again but had no chance to shoot. We decided not to walk in the afternoon, but rather rested on Saturday. Friday night I was tired and although I learned a lot from George Potgieter about hunting, I was pretty discouraged! On Saturday morning we entered a particular dense forest where we saw buffalo the day before. Before 8 o'clock in the morning we are warm on the track and we know the buffalo are nearby. Many caretakers creep up on us and see them 20 meters from us behind dense bushes. We stared at them for a long time, but when we slowly got the gun in position, we heard only the large herd running away. We followed them and once again got too close to them. We then decided, in the general direction in which they ran, to submit their two blocks further. The first and second blocks were large and the trees thick which made it difficult to shoot, but the third block was much more open.
When we got to the third block, we saw impala running across the road. We immediately put out the shooting sticks and waited for the buffalo. They came but ran slowly over the road which would make the shots very risky. We then ran down a path parallel to the buffalo's running direction. After a few hundred meters we turn off in the direction of the buffalo and wait for them, not sure if they are already over. After a while, however, we see one of the impalas running in front and we know we are in for a chance. After about 5 minutes, the first buffalo walk quietly past. Suddenly George tells me, "There's the big buffalo." I sit on one knee to shoot down a branch and pull the trigger. The buffalo does not show that he was hit, but I am confident that it was a good shot. While I was still trying to set up my small GPS to measure the distance of the shot (113m), George called and said that one buffalo remained behind as the herd ran back into the dense bushes. I run with the gun and shoot from my shoulder. Again, the buffalo ran a few steps and stopped. We put the tripod on and shoot again. In the end, one shot was through the buffalo's heart and at least five shots through his lungs, but the buffalo still stood. However, as we approached cautiously, we saw him lying 240 meters away just before the dense bushes. I salute this worthy adversary who just didn't want to fall. Very grateful to my Creator who made it possible and George Potgieter who shared his knowledge with me and had a lot of patience, I realize that this was the outstanding hunt of my life. In addition, my grandson Reuben also shot his first impala the same day. What a wonderful Saturday night we did not experience!